Charivari was brought to Louisiana by the Acadian settlers and European immigrants. The custom has been practiced in France since pagan times. It is a celebration, observed by ancient peoples, where by beating drums or making loud noises drove evil spirits away from the newlyweds. Evil spirits are bad, and if allowed to enter the celebration they would cause bad luck. Loud noise and loud music chased the evil spirits away. Mardi Gras, in many ways, is a similar celebration brought over from France and Europe, but faire le charivari has not be done as much in modern days.
Harnett T. Kane, a New Orleans journalist and author wrote in his book "The Bayous of Louisiana", published in 1943 by Bonanza Books of New York, , "The more I saw of this place and people, the more I came to appreciate them. " Mr. Kane attended a charivari in southwestern Louisiana, he wrote, "Only one other South Louisiana institution can match the Mardi Gras in its semi regulated horseplay, and that is the French-style charivari. The custom has been common along many bayou areas, but it seems to have survived in particular style along the prairies. It is a matter of inequality, or lack of balance, that makes for charivari. A widower of fifty-eight takes a bride of eighteen. Ho-ho, he has a noise coming to him, that one. What you think, ahn?" Kane states that when a widower marries a widow there is generally no cause "pour faire le charivari." Charivari was always best as a surprise. The cans and bells attached to cars was also a form of noise making to chase away evil spirits that is still done on occasions now. Kane said he was once surprisingly invited while visiting in Cajun Country to a charivari. A hurried man knocked at his door and asked if he wanted to see a charivari. On the way Kane was told that an old businessman after his first wife passed away married a young girl, and had returned with her from a private wedding in New Orleans. The old businessman was cheap, so as usual a charivari developed spontaneously by men in the community. Kane said they stopped in a crowd on the road a short distance from the couple's home. A loud procession went to the couple's house but the noise grew louder upon reaching the home. For about 2 hours, the charivari noise went on out side the house. The rules were the group had to be invited in, the noise would go on until the invitation was given.
One man knocked the door of the old businessman's home. After several discussions the husband came out . He knew the rules, there would be no end to it until the bride as well as the groom joined in the charivari. Reluctantly the husband fetched the bride. They were urged to kiss and the husband then asked the question expected by the crowd. "Quoi vous voulez, mes bons hommes?" (What do you want, gentlemen?) The leaders of the charivari group, told him they wanted wine, beer, cake, sausage, cheese and whatever available, and they'd even wait for him to go get more food. "Entrez!" called the leaders. Thus the charivari begins.
For the next hour music played, food was eaten and toasts made. "Que le Dieu benit les maries!" (May God bless the married ones.) "Que le Dieu benit les noces!" (May God bless the nuptials.) Eventually charivari ended and the couple left in peace.
In "Gumbo Ya-Ya" by Lyle Saxon, et al, Bonanza Books it is stated a charivari may "continue night after night". The most famous "lasted three days and nights". The couple finally moved away to France. Generally given only "to widow and widowers who remarried", but for a Cajun any reason is good enough for a another party.
Fop further reading on Louisiana Cajun Customs of marriage and the actual marriage celebration see: Pouponne et Balthazar: Nouvelle Acadienne by Mme. Sidonie de la Houssaye; Librairie de l'Opion, Nouvelle-Orleans: 1888 a retelling of the "Evageline" story by a Louisiana Creole author of the time period. See also Cajun Country by Barry Jean Ancelet, et al. Paperback / Published 1991 ISBN: 0878054677 a link is provided to the left.
For further reading into traditional Louisiana Folk Ways see Louisiana Folk Life Program.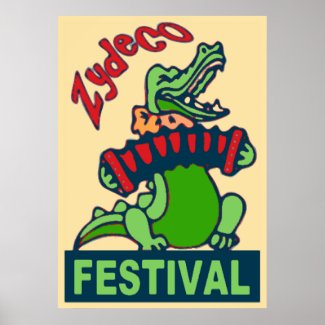 Zydeco Festival
by
figstreetstudio
See more
Zydeco Posters
For assistance in planning a Cajun Style wedding contact Dr. JK Schwehm at New Orleans Weddings.