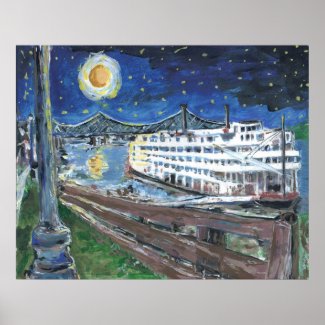 Starry Night Riverboat
by
figstreetstudio
on zazzle
Many unique prints, gifts, cards, hats, shirts, stickers, and ornaments found at http://cafepress.com/figstreetstudio, and many more unique gift items at my Zazzle Store http://www.zazzle.com/figstreetstudio , help us recover from the storm. See links at left for prints, cards, and other art items. Prints sold direct from the studio or from ImageKind and All Posters . Keep up with the news at Fig Street Studio by reading the Blog at Art In The News,Blog. Original art on commission and by appointment at the studio.
---
Formerly Located in the Carrollton area of New Orleans but moved temporary to the North Shore due to Katrina, Fig Street Studio is the home of New Orleans Artist JK Schwehm. Dedicated to producing fine and graphic art related to New Orleans, Louisiana, and it's Cajun heritage. Art, t-shirts, and gift items from Alligators to Zydeco musicians are created by JK Schwehm and his fellow Fig Street Studio artists. Follow the links provided here to view and purchase paintings, portraits, prints, posters, t-shirts, ceramic tiles, and coffee mugs sold over the web. If you want a portrait painted or a logo done for your organization or group just e-mail us your request. Above are a few samples of the art found on the prints page. Fine art, paintings, design work, and other projects are done at the Studio, shirts and gifts are sold over the web only.
E-Mail for more information.